Getting to my first 5km race 🏃🏽‍♂️
My journey from hating running to my first 5km race.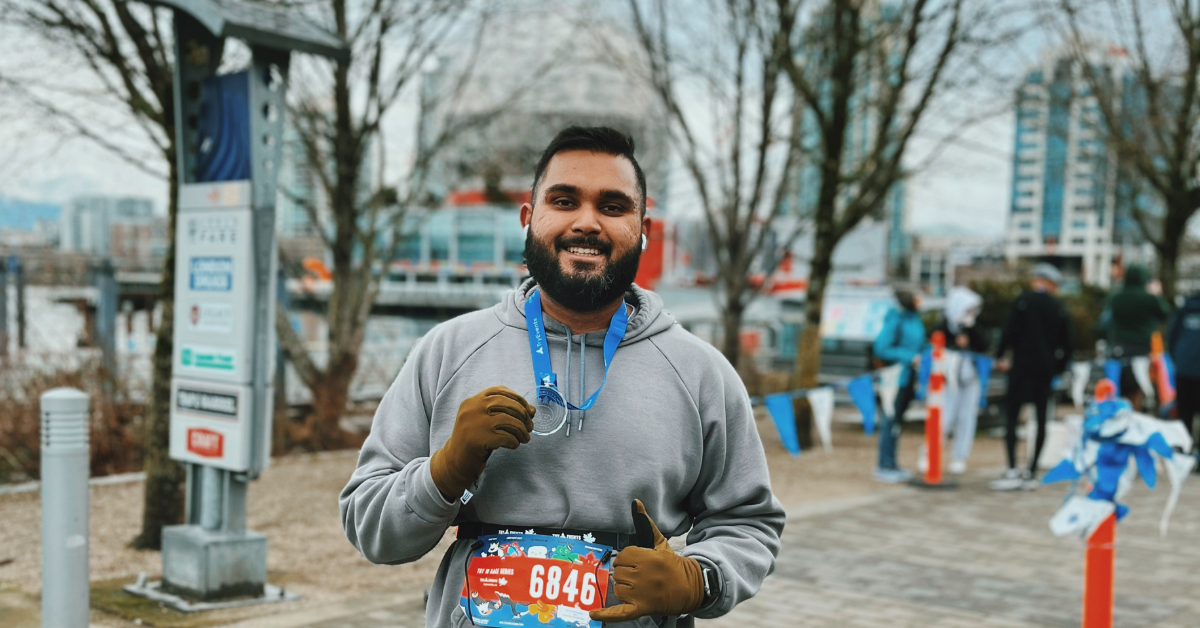 Today was a special day because I ran my first 5km race.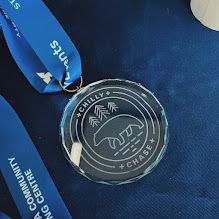 This is an exciting moment for me because up until about September of 2022, my outlook on running had been...less than enthusiastic, to say the least. My relationship with the activity was complicated because while I found it helpful  for clearing my mind - I hated the actual act of doing it, and especially under any sort of time pressure. Back then my usual time for a 5km was about 45 minutes and if you were to ask me to compete in a 5km race back then, I would have definitely said hell no.
So what changed?
🩺 September 2022
September 2022 was a very notable month for me. Amongst a lot of new life events including starting a new job - I had just learned of some health news that necessitated making some significant life changes. One of those changes was getting serious and consistent with my physical training (PT).
I decided that I wanted to focus on weight training, riding (my Peloton lol)  and running, with the first of those being assisted by my personal trainer, and the running being a journey that I wanted to venture on my own.
🏃🏽‍♂️ Why Running?
Running appealed to me for a two main reasons:
It's an activity that I found to help deal with anxious thoughts, especially during the COVID days; and
It's a physical characteristic that is absolutely critical in my second job within the Army, and an activity I would need to get much better at for my next career & leadership course.
If those hard truths were a swift kick in the ass towards the door, what actually pulled me outside was the absolustely gorgeous weather we had for the whole month of September.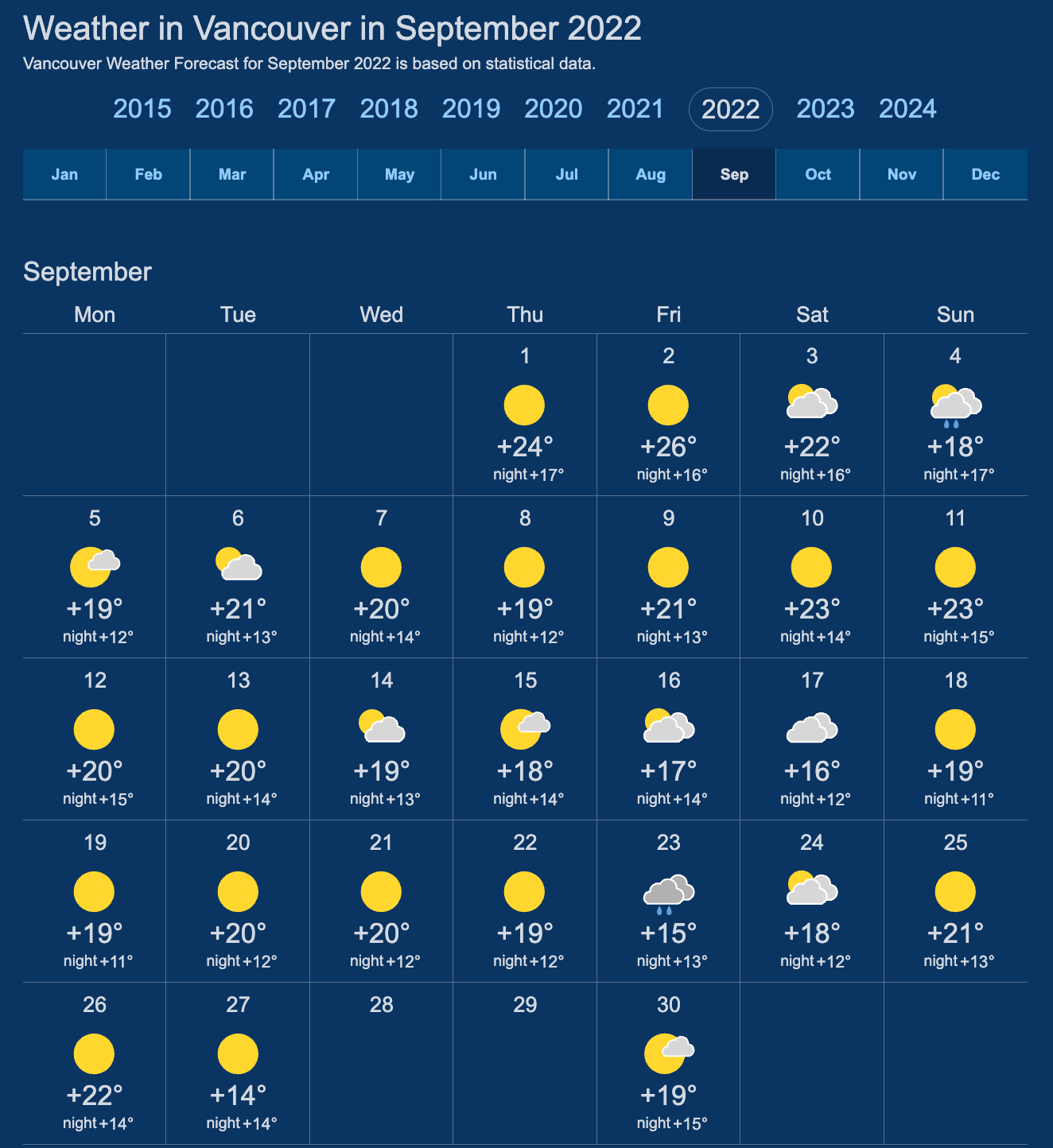 The Training
I knew that this time (take 135) I had to try something different for getting better at running.
📱 The Foundation: Nike Run Club
Goal: Just get out there and run.
My first step to getting serious with running was actually getting into some sort of coaching.
The principle of:
Just get outside
Works, until it doesn't. It's not really enough to just run - without technique. And for me, not seeing progress  without any sort of plan becomes demotivating. So starting with the Nike Run Club (NRC) app - which provides coaching and goal setting, was great.
NRC is an app that you can get on your phone - and it essentially provides an pre-recorded coach to get you up and running from zero to hero.  NRC uses the sensors on your phone (or smartwatch) as well as the attached headphones – with recordings from running coaches to guide you on different runs.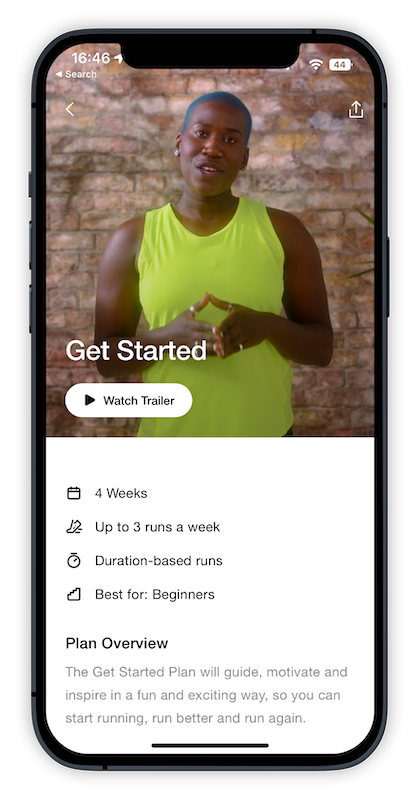 In the NRC app you can do individual runs, or you can do plans which are a collection of runs bundled together (along with detailed coaching advice, and recommended pacing).
In my case I started with the Get Started plan which consisted of approximately 3 runs a week for 4 weeks.
That first run was fantastic because one thing it really hit home was to not start fast. Yes, surely that's self explanatory - but the first runs are all about starting and finishing with an energy level that makes you feel motivated to run again and again. While the subsequent runs work on getting your pace faster and faster. I especially enjoyed the dialogue from the coaches whom, even though they aren't actually there with you, are super encouraging and positive. Definitely something I needed to drown out my usually critical thoughts when I'm starting a new skill.
After the second week, I started doing Interval Runs (also known as Fartlek runs) and this is the activity that had the biggest impact on my times. Doing the interval runs pushed me into periods of higher intensity running and got me better at regulating my breathing. While the other runs were great for getting me out there and running, the Fartleks are what pushed me ahead in my running skill tree.
Looking back at the App now, I see that I actually didn't finish the "Getting Started" plan (only completing 3 out of 4 weeks) - but the 3 weeks was enough to get me a hang of the basics, and motivated enough to keep going.
5️⃣ The Baseline: 5km Runs
Goal: Run 5km without stopping, consistently.
Once I felt like I was getting the hang of running, I decided that 5km runs would need to become my base. Initially, that was a challenge considering up until this point, my usual run length (when I was able to  actually motivate myself to get out of bed and out of the house on the rainy fall mornings) was half that - at 2.4km.
But, I made this decision because 5km was shortest length that races will run and because that's just the level I want to be at. No excuses.
🤙🏾 The 1st Stretch Goal: East Vancouver Run Club
Goal: Run 5km, with people, and push your time.
One that thing's motivated me when running both as a cadet and all the way through to being in the Army; has been running with a group. There's something about running with a body of people that motivates me to go harder than I would on my own. So with that in mind, I decided to take the plunge and drop into a running club.
The one I decided to check out was East Van Run Crew (EVRC) - as I'd remembered a friend raving about it a couple of years previous.
https://www.instagram.com/eastvanruncrew/?hl=en
My first run with EVRC was on September 26th and it was a blast!
I'd never been part of a running club  before so I was pleasantly surprised to find how positive, and pleasant, and encouraging everyone was! (I guess I shouldn't have been so surprised, considering their tagline is #nojerksallowed ).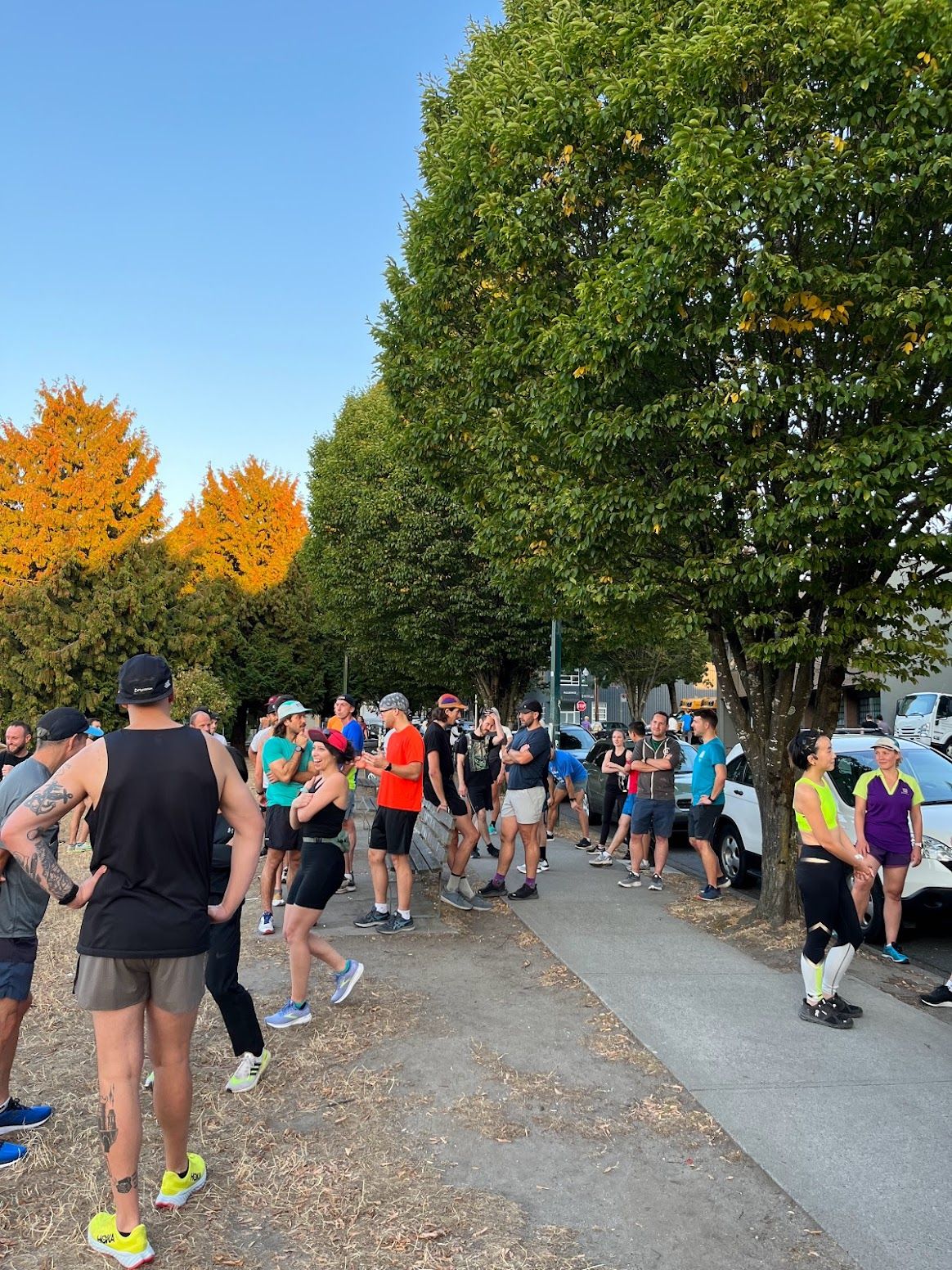 For anyone that hasn't been, the runs start off by gathering at a central point (either a park or a brewery) where there's a quick hello, welcome to  new joiners, snapping of the group picture and finally the announcement of the route leaders. In the two runs I was a part of, there was a 5km route and a 10km route, with each leader plotting a route prior to the event. The route leaders will give a short rundown (heh) of the routes and then that's it -  you're off.
If all the runs I'd been doing by myself with NRC were pumping me up - that first run with EVRC was a good checkpoint and reality check.
I remember absolutely struggling through the run and reflecting on myself at the halfway point - while sucking air and cramping up  (and this was before going up hill on Great Northern Way). I came close to last on that initial run, but it only motivated me to keep training and get faster. Which I did, and for the second run in November - I did much better on the route and was near the middle of the pack 🕺🏽
Funny enough on that run, we actually had to take a detour due to the construction of the new St-Pauls hospital, which extended our route by about 2km. STILL FUN!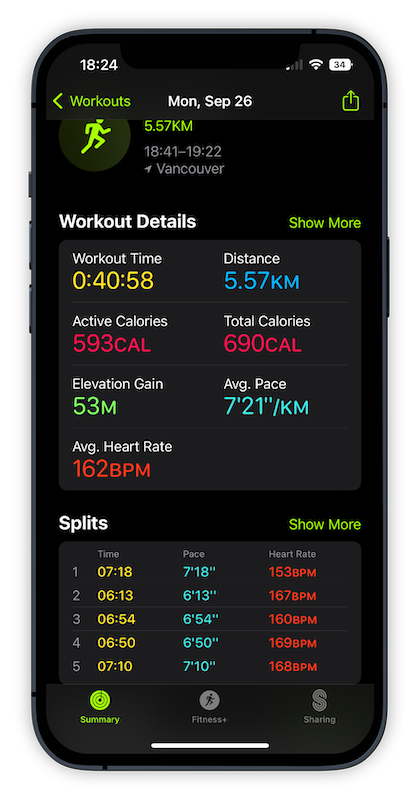 Once you were done the runs, you could usually meet up with the rest of the folks to grab a drink at a brewery - but I usually opted to go home and stretch out as I found myself really sore after those club runs.
Speaking of which:
Stretching is 🔑
Hand-in-hand, or should I say, Foot-in-foot with my Peloton rides - I've learned (and re-learned) that stretching after  workouts is KEY. Running, comnined with a lifestyler of sitting behind a desk for large periods of time is just a recipe for pain. Along with Peloton, I found that doing the guided stretches were very helpful! (I usually did the "5-minute post run" stretches). And if you don't wanna be a milennial hipster like me and pay for Peloton, the included Apple fitness stretches are great too.  Or any Youtube video would work too idk.
⏱ The New Baseline: Sub 30 5km
Goal: 5KM in under 30 minutes.
At this point I'd gotten my feet wet (heh) and was able to consistently run 5K's without stopping. This is when I began to push myself on the times. If you recall, my average time before all this (in September 2022) was about 40-45 minutes for a 5km run. I wanted to get that down below 30 minutes.
And, while you might have thought  there were perhaps cool tricks or techniques used to get there - you'd be wrong. I uh..kinda forgot to continue on my NRC plan and just kept running every week while trying to push myself a little more each time.
Something something incremental gains I guess.
(However I do think that if I did more interval runs, perhaps that may have given me even more improvement.)
But alas, on October 19th, I did it! I managed to run 5km in 29:36! I remember being absolutely pumped about this moment and excited to continue on my training.
😥 The Setback
After that first sub 30 min time, I ran even harder -  improving upon that time up to the fastest 5km of 2022 being 28:55. However, due to a lot of other things happening in life, I had to take a break in November which would stretch to multiple weeks long. This would be the longest gap in running since I started, and when I finally ran again - my last run of November was on the 28th where I ran 5km in.. 30:11. That's going from a pace of 5'46" on 08 Nov to a paltry 6'01" on 27 Nov.
19 days!
19 days and it had that big of an impact.
I remember after this point feeling very anxious as I knew that the holiday season was coming up...
How would I do in the new year after a big break? Would I be back to square 1?
🎊 Happy New Year
On New Years Day I decided to dust off my running shoes and get back outside. There were a lot of factors weighing on me. By this point it had been over 4 weeks since my last run, and at least 1 since my last workout due being on an Army exercise for the last week of December.
Would I even be able to get under 30 minutes?
Well, I'm pleased to say that after that run - I reflected that it was probably the best feeling I'd ever had on a run. In that run, I rememberfeeling like I was lighter on my feet and a lot more fluid. And I guess it was true because I ended that run with a total time of: 28:53 and a pace of 5'43" !!
That was the best time and pace I'd ever had!
I was very pleased with myself, and that result really encouraged me to get back into the groove of working out.
😤 Signing Up For The Race
In the second weekend of the year, I found myself at an army course called Pre-PLQ. For ease of expalanation, this is a preparatory course for a more involved and challenging course that would be happening later in the summer. A cool aspect of Pre-PLQ is getting to be on course with people from other trades and not just Signallers. On this weekend specifically, the focus was on Weapons (re) Familiarization where the Infanteers really got to shine in their element.
For those not in the Army, the Infantry are kind of like the..  athletes of the Army. In fact, their mission is to literally close with and destroy the enemy so physical fitness is kind of important lol. And to that end, they were definitely fit. You could see it indirectly in the way they simply manipulated their weapons throwing around a 10kg rifle like it was a toy, and directly on occasions like ruck marches - where the Infanteers serving as markers (think...moving crossing guards that are placed on the front and rear ends of a marching group) would sprint to block off intersections while wearing fully loaded, 80lb rucks.
This might be cringey, but that shit motivated me.
And I found myself thinking of how I'd amp up my PT plan for this year to challenge myself. A couple of google queries here, a bunch of youtube videos there - and one thing led to another and I was somehow signed up to run a 5km race within 2 weekends.
🏁 Race Day
The weeks came and went, and finally it was Race Day. Armed with a terrible night's sleep and some cheese and crackers - I was off to run the Chilly Chase. It was a cold day for a race with the outside temp being 4 degrees; in fact the mountains serving as a backdrop for the beautiful seawall were thoroughly dusted with snow.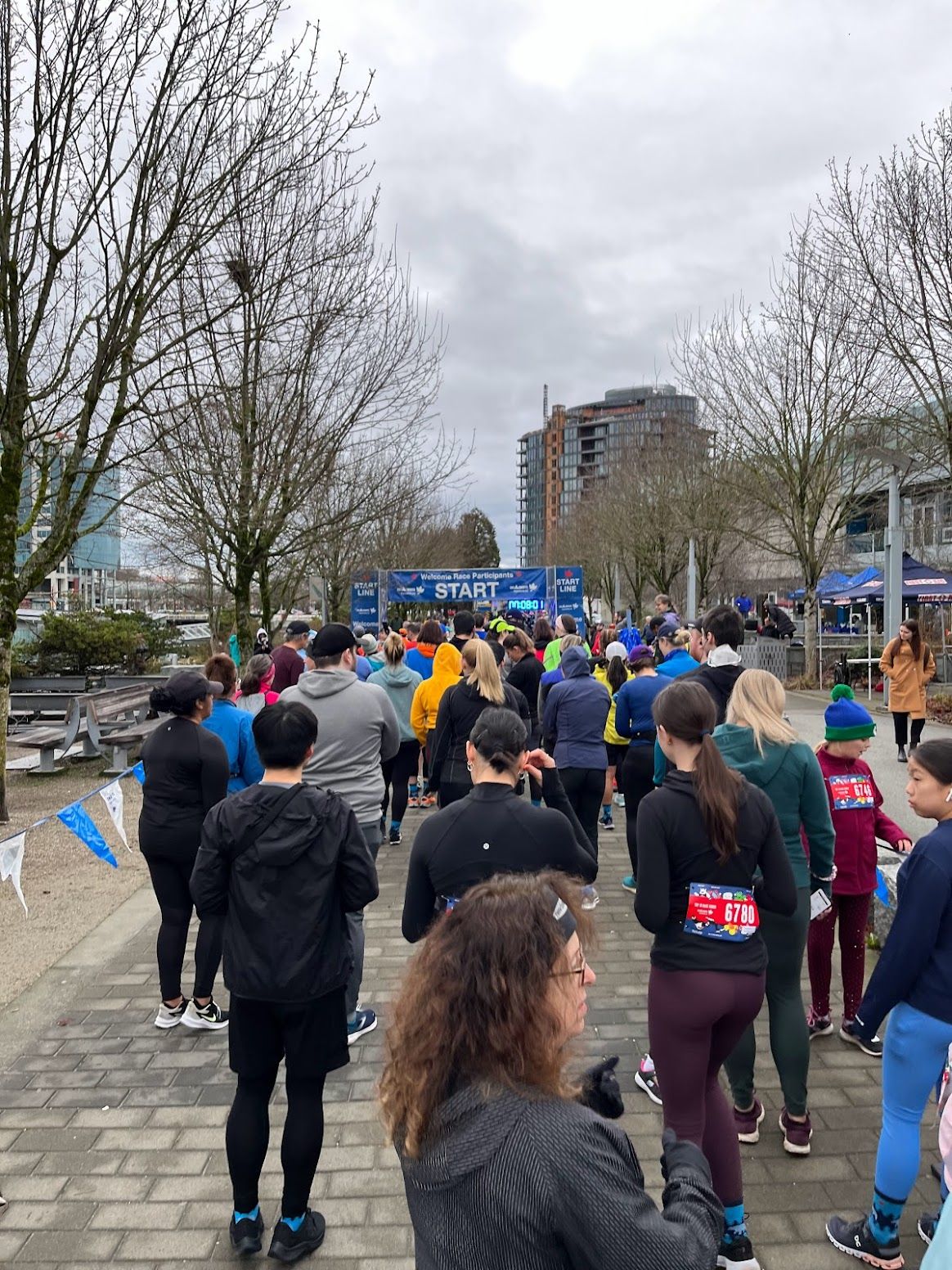 I don't remember much about the start of the race other than the fact that we lined up a few minutes after the half marathon & 10km racers, and we were off.
I felt lucky, like I had a "home-field" advantager because the route was on the sea-wall which is my usual running route (albeit shifted a little bit further in one direction.) It was all the usual sights, but again, knowing that I was running with a group (and in fact, kinda competing?) fueled me to go harder. I remember in points where I would usually feel like coasting a little, I forced myself to keep on the gas. And at times where I would start to lose my breathing pattern - I'd really push myself to focus on the in through the nose, out through the mouth. I remember thinking:
Hmm I wonder if this is going to make any difference
and I guess it did because when I came back and checked the standings - I found that I came in 29th place with a time of 26:29 !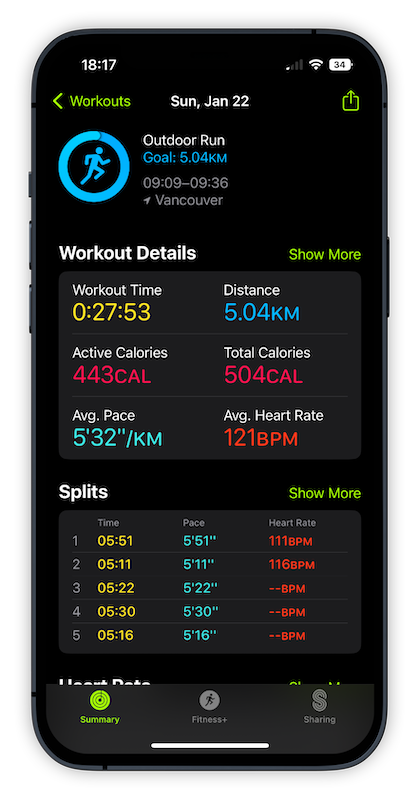 In Conclusion
Overally, I'm really happy with how I did today, and the progress I've made to get here! I'm looking forward to continuing on my running journey throughout 2023. Here's to a goal of running a 10km later this year!
---
👨🏽‍💻 Stats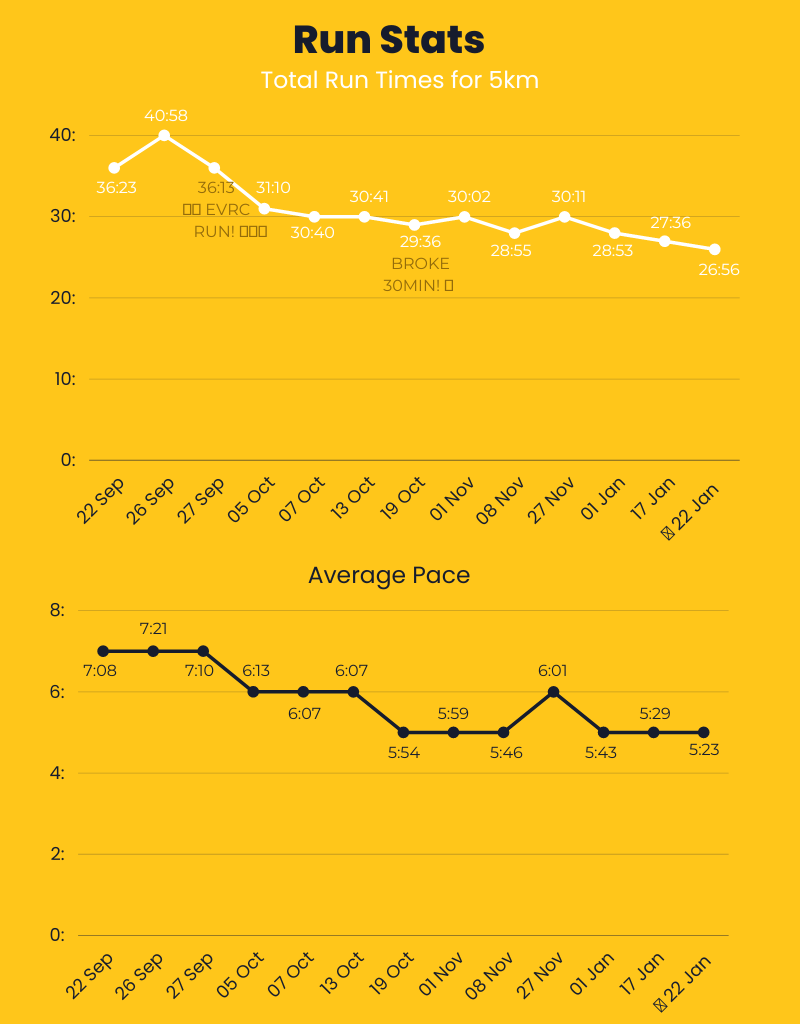 September
In September I did a total of 16 runs with 12 of those being with NRC.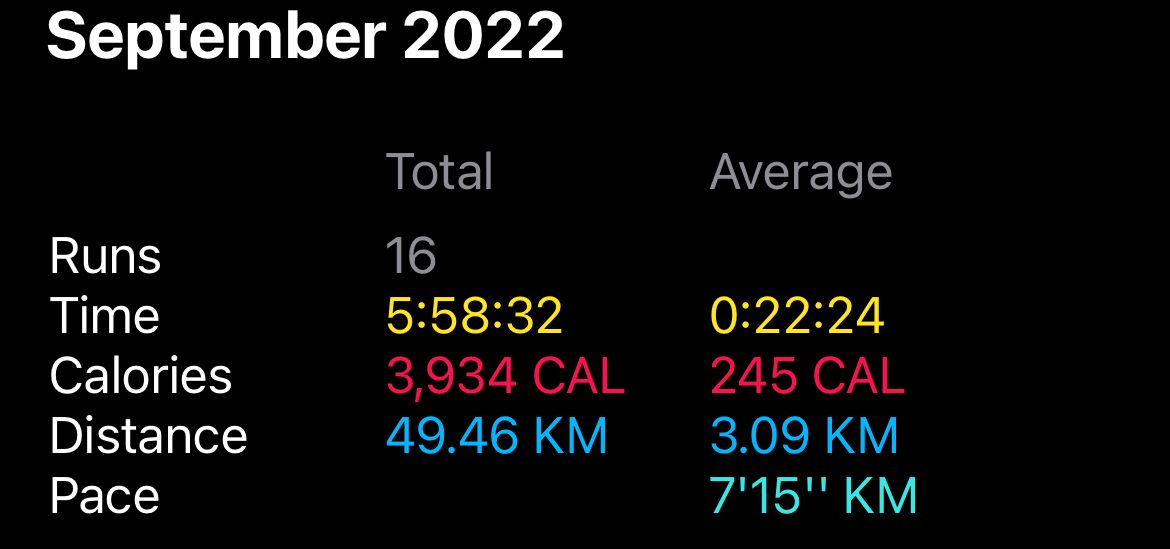 Of those 16 runs, 3 of them were 5km or greater:
22 Sep - 0:36:23 - 7'08"/KM
26 Sep - 0:40:58 - 7'21"/KM  (1st EVRC Run!)
27 Sep - 0:36:13 - 7'10"/KM
October
In October I did 10 runs, with 4 of those being 5km runs.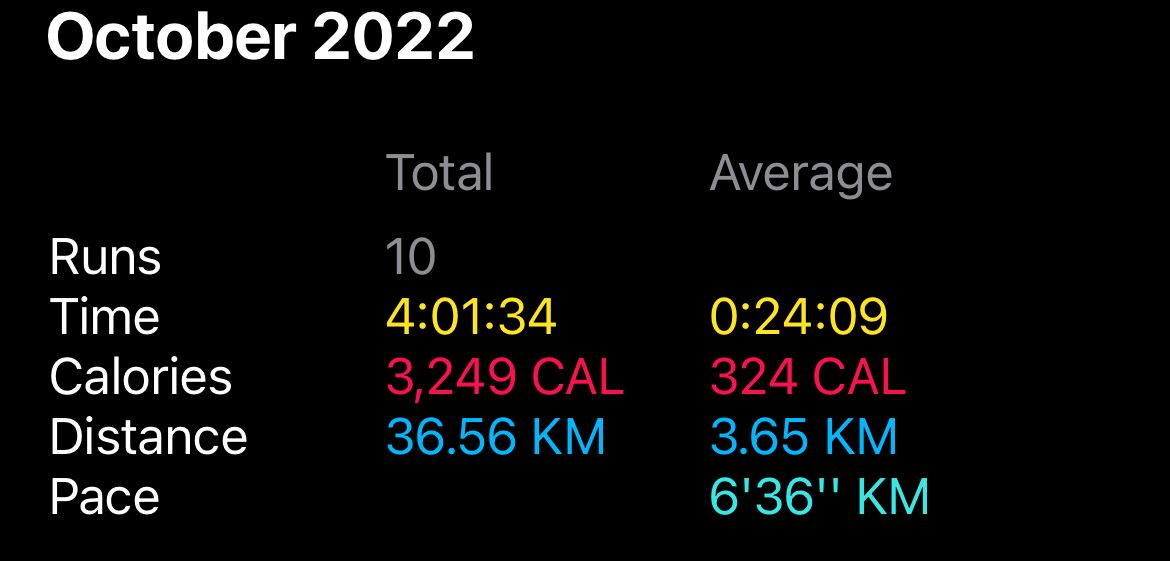 My 5km stats for October were:
05 Oct 22 - 31:10 - 6'13"/KM
07 Oct 22 - 30:40 - 6'07"/KM
13 Oct 22 -  30:41 - 6'07"/KM
19 Oct 22 -  29:36 - 5'54"/KM 🎉!!!
November
In November I only did 3 runs, but all 3 of them were 5km.
01 Nov 22 - 30:02 - 5'59" KM
08 Nov 22 - 28:55 - 5'46" KM
27 Nov 22 - 30:11 - 6'01" KM
December
In December I did no running cuz' its the Holidays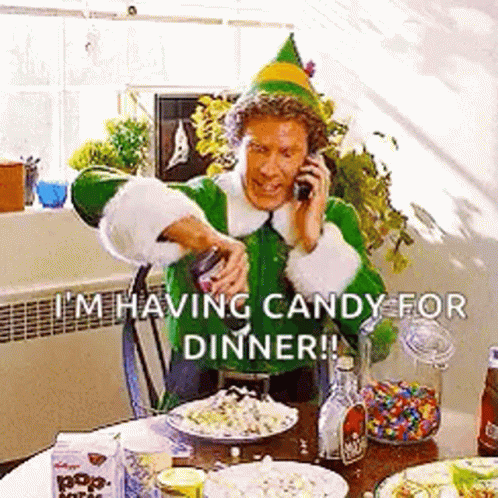 January
Up to the race in January, I did 3 runs total:
01 Jan 23 - 28:53 - 5'43" KM
17 Jan 23 - 27:36 - 5'29" KM
Race Day
The actual chip time was 26:56 but my phone was stopped a bit too late.